Welded Sculptures, Hammered Copper Art, Metal Collages, Abstract Sculptures, Wire Sculptures and more. Thank you for visiting!
Sculpture Site - Berkeley


http://www.sculpturesite.com/
California's most respected contemporary sculpture gallery, presenting over 400 museum quality fine art sculptures by 100 noted sculptors, including abstract metal sculpture, bronze sculpture...
Nadeau's Ice Sculptures, Inc. - Forest-Park


http://www.nadeauice.com/
Nadeau's Ice Sculptures Forest Park Illinois unique ice sculpting for parties, weddings, festivals, corporate and other special events.
Allstar Village Ice and Absolute Allstar Ice - Orlando
http://www.allstarice.com/
Allstar Ice manufactures packaged cubed ice. Absolute Ice manufactures crystal clear ice carving blocks & ice sculptures. wholesale or retail...
Nikki Feldbaum Wearable Sculpture - Sarasota
A fine collection of jewlery, please visit our web-site for more information
Metal Luma - Indio
http://www.metalluma.com/
Metal Luma highlights the work of artist Derek Youngquist who works primarily with mild steel to create commanding metal wall sculptures. Visit Derek's online galleries (available and collected).
Wildlife Art Gallery - Covington
Metal Orchids and Wildlife Art is a fine arts gallery devoted to promoting original wildlife art and metal orchid sculptures. We represent many internationally recognized and published artists, in...
Gallery of Sculptures, Art & Antiquities - Las-Vegas
http://www.gallerylasvegas.com/
The Gallery of Sculptures, Art & Antiquities has the most incredible collection of rare and unique pieces in the world. From ancient artifacts, known as antiquities, to original paintings by...
Original Bird Art - Dousman
Original bird, wildlife art and landscape art, paintings, bronzes, and wood carvings from award-winning wildlife artists. Over 500 original paintings and sculptures. Limited edition prints, canvas...
Margie Mersky Custom Design - Saint-Louis-Park
http://www.mmwaxmodels.com/
Wax Models, Miniature Sculptures and Wax Carving are the artistic work of Margie Mersky. It showcases the marvelous work that this gifted sculpture creates.
Gallery Mack - Seattle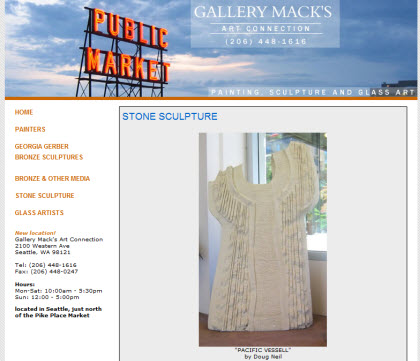 http://www.gallerymack.com/
Gallery Mack painting, sculpture & glass art (206) 448-1616 Home Painters Georgia Gerber Bronze Sculptures Bronze Other Media Stone Sculpture Glass Artists Graphics RC Gorman Poster Prints...
Whale Sculpture by Wick Ahrens - Weston
http://www.wickahrens.com/
Vermont fine artist and sculptor, Wick Ahrens carves wooden sculptures of whales and other marine mammals for the corporate and private art collector. Also specializing in maritime antique...
Doug Roper - Bronze Sculpture Western Artist - San-Antonio
http://www.dougroper.com/
Fine art, sculpture, and bronze cast works of Doug Roper, artist and sculptor, of native american people, western and southwestern themes, and wildlife art. bronze artwork, bronze, sculptures.
Mendenhall Studio - Willamina
http://www.mendenhallstudio.com/
Wall Fountains & Metal Sculptures by Walt Mendenhall at Mendenhall Studio features Water Wall Fountains and sculptures created from stainless steel, bronze, copper, steel and aluminum.
Hostetler, David L. - Athens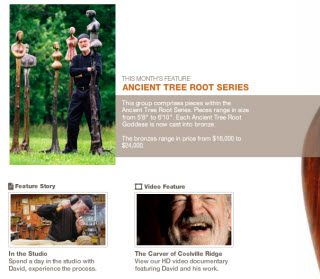 http://www.hostetlersculpture.com
Contact information and sample wood sculptures, bronze sculptures, and prints from nationally know artist, David L. Hostetler of Hostetler Gallery. Includes biographical information, information...
Harry McDaniel - Asheville
http://www.brwm.org/harrymcdaniel/
BRWM Home Contact BRWM Home About us View products Join the mailing list Go to vendor's web site View cart check out Three-Dimensional Art A Project of Harry McDaniel-Sculptures Mobiles My artwork...
TarHeel Gallery
http://www.tarheelgallery.com/
An online art gallery featuring North Carolina artists, art work, fine prints, and sculptures.
Davis features her best angel art sculptures and talismans. These one of a kind angels are custom created to provide an angel art healing for the individual that...
Koolkinetics.com - Warner
http://www.koolkinetics.com/
kinetic sculptures and mechanical wire sculptures, with animation, also weather cam and fall foliage cam from central New Hamphire and links to other sites.
Steel Sculptures - New-Castle
http://www.steelingnature.com/
Welcome to the Steeling Nature web site featuring metal sculptures and weather vanes by award winning artist Walter Liff. One-of-a-kind, custom made weather vanes are a distinctive way to add the...
Running in Montana - Alberton
http://www.montanagifts.com/
Looking for Running in Montana? Go to www.runmt.com Home of www.montanagifts.com Contents Bird Sculptures Canadian Geese Mallards, Hummingbirds, Blue Herons Natural Wood sculptures Eagles Desk
Ice Sculptures LTD - Grand-Rapids
http://icesculpturesltd.com/
Ice Sculptures, Ltd., is the most technologically advanced, full service ice sculpting company in the Midwest.
Cover Gallery - Wellfleet
http://www.covegallery.com/
Cape Cod art galleries, a studio with local character and international flavor. Watercolors, oils, pastels, etchings and sculptures.
Sailors Valentine Gallery
http://www.sailorsvalentinegallery.com/
Located in an historic warehouse on Nantucket's Lower Main Street the SVG Collection features diverse, cutting edge artists from Outsider and Folk Art to Classic Fine Art and Sculptures.
Holden Metal Werks - Louisville
http://www.holdenmetal.com/
Holden Metal Werks designs custom, unique pieces of furniture and sculptures. Visit our gallery to see some of our artistic sculptures and metal furnishings.
Black Smith Designs - Homestead
http://www.blacksmithdesigns.com/
gate design, blacksmith, gates, gate, railings, railing design, ironwork, iron work, custom iron work, sculptures, custom iron sculptures, metal work, hoods, wrought iron, custom iron work, custom...
Andre Harvey Bronze Sculpture - Rockland
http://www.andreharvey.com/
Original cast bronze sculptures by American artist André Harvey...
Fenwick Float-Ors® of Fenwick Island, Delaware, offers nautical gifts for home decorating, including its renowned hand-painted buoys, Scaasis lighthouses and John Perry marine sculptures.
Stone Galleries takes any 3-dimensional design and produces amazingly accurate solid granite sculptures.
Termar Gallery - Durango
http://www.termargallery.com/
Durango Art Galleries - Termar Gallery has been known as Durango's premier original art gallery featuring traditional and southwestern work and Bronze sculptures.
Reflection Bouviers - Albuquerque
http://www.reflectionbouviers.com/
Bouvier des Flandres multi award winning Champion Breeder has dogs and puppies for sale in New Mexico, also metal dog art sculptures.
Racchi, Jim - Key-West
http://www.jimracchi.com/
Steel Metal Sculptures Jim Racchi is a metal sculptor living in Key West, Florida. His larger than life sculptures are composed of recycled welded steel scrap metal. He finds scrap yards an...
Wasatch Sculpture
http://www.wasatchsculpture.com/
LDS Art, LDS Statues by sculptor Karl Quilter. Angel Moroni in Resin and Bronze. Statue of Jesus Christ, The Christus. Angel Moroni sculptures in bronze and resin.
Sculpture and Art of Harry McDaniel - Asheville
Diverse artwork ranging from abstract decorative sculptures to symbolic pieces dealing with psychological and anthropological themes, artwork of Harry McDaniel...
Grace Cathey Sculpture Garden and Metal Art Gallery - Waynesville
http://www.gracecathey.com/
Grace's love of nature inspires her metal sculptures. Her Sculpture Garden is an oasis in downtown Waynesville and the Art Gallery is uniquely located inside the historic Walker Servie Station.
Sculptures In Ice - Salt-Lake City
http://www.sculpturesinice.com/
birthday decorations, bridal luncheon ideas, ice mold, ice molds, ice sculpture, ice sculpture mold, ice sculptures, planning wedding reception, reusable ice sculpture mold...
An enchanting site full of fairies, elves, dragons and other fantasy sculptures. Books and fairy greeting cards are also featured.
James Kelsey Studios - Port-Orchard
E-mail | Sculpture | Furniture | Artist Statement | Who Am I? THE NEWEST SCULPTURES BY JAMES KELSEY: CLICK HERE PRIAPUS: Protector of the Gardens AND. . . CLICK HERE Whirlwind...
Lucky the Happy Hobo Clown - Balloon Twisting and Magic Shows - West-Milton
http://www.feelnlucky.com/
Hi, I'm Lucky the Happy Hobo Clown and I specialize in balloon twisting / balloon sculptures. I also put on clown and magic shows.
LuMingTa.com - Unique, Precious Jade Bracelet, Pendant and Jewelry - New-York City
http://www.lumingta.com/
LuMingTa.com is a reputable jade jewelry manufacturer, wholesaler, and retailer. Choose from an extraordinary selection of precious, unique jade jewelries and jade sculptures.
Sculptures showcasing 2002 clay sculpture collection including themes of figures and faces in hand-sculpted clay. Thirty online works including prices, dimensions, and ordering...
Hocking House - Logan
http://www.hockinghouse.com/
A 150-year-old log cabin converted into a fine craft gallery featuring the garden art of Jean Magdich. Combined indoor showroom plus outdoor arrangements display Jean's garden ware and sculptures.
Frederic Remington Bronze Statues and Sculptures - Boerne
http://www.broncobuster.com/
Wholesale Distributor and Corporate Specialist of Bronze Statues and Sculptures By Frederic Remington and others offered by Prime Equine Co., Texas 1-800-592-7778
Ice Impressions Ice Sculptures - Traverse City
http://www.ice-impressions.com/
Ice Impressions ice sculptures is run by ice artist Steven Berkshire, and offers ice carvings for a variety of special events. Steven also teaches ice carving classes.

Freman Loughridge Junk Sculptures - Ardmore
http://www.funksculp.com/
Sublimely ridiculous stuff, metal Sculpture, recycled art, public sculpture, folk art, folk sculpture, custom art...
Dovetail Gallery - Egg-Harbor
http://www.dovetailgallery.com/
Door County art gallery featuring a wide range of egg art, paintings, garden angels, and fine sculptures. Original Faberg' egg on display.
Oxford Gallery - Rochester
http://www.oxfordgallery.com/
The Oxford Gallery in Rochester, NY, maintains several thousand works in inventory by 18th, 19th, and 20th century artists including paintings, prints, and sculptures.
Tattoo by Dirk - Atlanta
http://www.tattoobydirk.com/
Atlanta artist and tattooist, Dirk Hays, showcases his tattoo art, drawings, paintings, and sculptures.
Hayward Studios is a Cincinnati Ohio art gallery featuring canvas paintings and sculptures by artist Adam Hayward.
Earthtones by d.p.Etlinger - Houston
d.p.Etlinger Artist | Craftsman Metal Art | Sculpture [click to enter ] Functional Metal Art [click to enter ] Read Thursday's Metalworker follows childhood dream Houston Chronicle...
Stark Gallery
http://www.starkgallery.com/
Stark Gallery features original art from local and London artists - featuring paintings, prints, sculpture, ceramics, glass, photography and more with monthly changing art exhibitions
Contemporary Arts Center - Cincinnati
http://www.contemporaryartscenter.org/
The Contemporary Arts Center has a reputation for provoking thought and introducing new ideas. The CAC focuses on new developments in painting, sculpture, photography, architecture, performance...
Austin Stone Carving
From original eclectic designs to time-honored traditional sculpture and everything in between, Austin Stone Carving offers high-quality unique craftsmanship and a positive client experience.
Kristin DeSantis - Lyons
http://www.kristindesantis.com/
Kristin DeSantis Fine Art contemporary and mixed media art, painted metal sculptures, limited editions and original works.
General Store: Quackenbush Cafe and Art Brut Gallery - Los-Alamos
http://www.generalstoreca.com/
A historic building featuring an art galley with fine art, unique sculptures and rare antique pieces together with a charming cafe serving cafe cuisine located on the central coast of California.
National Gallery of Art - Washington
http://www.nga.gov/
The National Gallery of Art, Washington houses one of the finest collections in the world illustrating major achievements in painting, sculpture, and graphic arts from the Middle Ages to the present.
Jeff Fetty's Leaning Oak Forge - Spencer
At Leaning Oak Forge, Jeff Fetty creates high-end custom metalwork for the residential and commercial markets including furniture, sculpture and architectural elements.
Windrush Online Gallery - Friendsville
http://www.windrushonline.com/
VISIONARY ART FINE LITHOGRAPHIC PRINTS SCULPTURE WOOD CARVING EARTH ART ~ QUALITY HANDCRAFTS ORIGINAL PAINTINGS AND CREATIONS Unique and memorable environments start with ART Maryland Online Art...
Tribal Arts Gallery at Zion National Park - Springdale
http://www.tribalartszion.com/
Tribal Arts Gallery at Zion National Park Home Page Home Baskets Fetishes Jewelry Katsina Pottery Pueblo and Navajo Mata Ortiz Sculpture Oaxaca Carvings Other 291 Zion Park Blvd., Box 539...
Worthington Gallery - Springdale
http://www.worthingtongallery.com/
Wind sculptures by Lyman Whitaker, paintings and pottery by Utah and Western artists. Gallery located in Springdale, Utah near Zion National Park. Buy online, shipping available. Phone: 800-626-9973...
Brian Gross Fine Art - San-Francisco
http://www.briangrossfineart.com/
Established in 1990, Brian Gross Fine Art specializes in abstract and reductive painting, provocative exhibitions of sculpture, multi-media installations and conceptual work.
Arati Artists Gallery - Colorado-Springs
http://www.aratiartists.com/
Featuring: paintings sculpture pottery prints and matted work note paper, and other small items At Arati you will find an exciting selection of paintings and drawings in all media.
Glyndon Art, LTD - School of Traditional Art
http://www.glyndonart.com/
Traditional art instruction for ages 8-adult. Drawing, oil painting, pastel, watercolor and sculpture classes. Art supplies featuring professional grade oil paints, pastels, drawing supplies, and...
Bronzes by Jerry Mckellar - Colville
http://www.jerrymckellar.com/
Bronzes by A visit to the website of bronze artist, Jerry McKellar, will launch you on a visual odyssey filled with variety of style, form, and theme. An award-winning artist, his sculpture ranges...
Archer Sculpture - Marysvale
http://www.warrenarcher.com/
Archer Sculputure. Exqusitely sculputred human form that expresses the rich diversity of human-kind is the primary focus of Archer Sculpture. Warren Archer and assocate Bambi Mounet create and...
Pacific Winds Fine Art Gallery - Bandon
http://www.wassman.com/
Pacific Winds Fine Art Gallery features the work of theWassman family, including carved wood and fossil ivory sculpture, scrimshaw, carved wood bowls, necklaces, earrings, bracelets, knives, and...
Wheeler Gallery - Providence
http://www.wheelergallery.org/
Emerging Artists Paintings by Jason Brockert and Avani Patel and Sculptures by Kelly Joseph January 16- February 5, 2004 Reception: Friday, January 16, 5 - 7 pm...
Christian May
http://www.christianmay.com/
Quality handcrafted custom hand carved stone works, including fireplace mantels, columns, fountains, pedestals, statues, busts, sculptures, tables, vases, urns, and more, in marble, sandstone, and...
B-Bop Balloons & Beyond
http://www.bbopballoons.com/
Business B-BOP BALLOONS BEYOND LOCAL: 817-427-9269 TOLL FREE: 866-427-BBOP Home About Us Bouquets for Local Delivery Arch Column Gallery Bouquet Centerpiece Gallery Sculpture Gallery Wedding...
Alec MacCrea Celtic Wood Craft - Alfred-Station
http://www.celtic-woodcraft.com/
Unique wood carving, distinctive celtic art, and sculpture to enhance your daily living experience. One of a kind works of art, limited editions art.
Schein-Joseph International Museum of Ceramic Art - Alfred
http://ceramicsmuseum.alfred.edu/
The International Museum of Ceramic Art at Alfred houses nearly 8, 000 ceramic and glass objects, ranging from small pottery shards recovered from ancient civilizations to contemporary sculpture...
Skokie Northshore Sculpture Park - Skokie
http://sculpturepark.org/
A 2 mile expanse of grass, trees, shrubs, and walkways; and the setting for one of the few premier, permanent sculpture exhibits in the Chicago metropolitan area.
ASAMA: American Sport Art Museum and Archives - Daphne
http://www.asama.org/
The largest sport art collection in North America, ASAMA currently contains almost 1, 000 pieces depicting sport art, in all mediums: paintings, sculpture, prints, posters, photography and...
Frank Smart - Laguna-Beach
http://www.franksmart.com/
Stainless Steel Sculpture and Custom Installations Frank Smart, Laguna Beach, California (949) 497-8500, fax: (949) 645-9361 Tables & Desks Gates & Handrails Water Sculpture Interior Fixtures...
Iron Orca Studios - Greenbank
http://www.ironorca.com/
design, fabrication and installation of artificial rock, themed water walls, and sculpture of forest and sea, landscape design solutions.
Heather Siobhan's Vision - Seattle
http://labude.tripod.com/
Heather Siobhan's, art, sculpture, ceramic, masks, faces, ceramic art, sculptures...
Glitz Gift Stores - Salt-Lake City
http://www.glitzgifts.net/
Glitz Gift new stores are located in the Sheraton Hotel downtown and the Hilton Hotel by the airport. Sell unique products: animals, leather goods, games, toys, sculptures, south west jewelry &...
Western Gifts and Dallas Cowboys Merchandise, Southwestern and Western Home Decor, Garden Bath Bedding Blankets Rugs Bronze Sculptures Mounted Horns Steer Skulls Hides Lone Star Beer and Coca Cola...
Stanley Architects and Artisans - Austin
http://www.larsstanley.com/
Architectural Studio specializing in Sustainable Design, Master Planning and Nature-Inspired Architectural Sculpture...
SculptureCenter - New-York City
http://www.sculpture-center.org/
Our programs identify new talent, explore conceptual, aesthetic & material concerns of contemporary sculpture, & encourage independent vision through exhibitions of mid-career &...
Original Doll Sculptures by Bonnie Jones - Natchez
CHECK OUT OUR WIZARD IN GALLERY II He is featured in the January 2004 issue of Contemporary Doll Collector Gallery I Santas Update Gallery II Art Dolls and Fairies Gallery III Holiday...
Main Street Gallery of Leland Michigan - Leland
http://www.mainstreetgalleryleland.com/
The Main Street Gallery displays all original art including metal sculpture, oil and acrylic painting, pastels, watercolors, woodcarvings and glass.
Boston Sculptors at Chapel Gallery - Newton
http://www.bostonsculptors.com/
Boston Sculptors Gallery has served as an alternative venue for exciting, innovative solo sculpture exhibitions since 1992. This gallery is unusual in that it exclusively shows sculpture in a...
Neon Artist Pacifico Palumbo - Colrain
http://www.neonartists.com/
neonartists.com - Neon artist Pacifico Palumbo's online catalog offering a wide range of unique neon sculptures, custom work, and traditional neon signs. Gallery of recent exhibits and installations.
Jane Dunsmore Studios
Ceramic Murals Handmade Tiles Commissions for Fireplace, Kitchen or Bath Sculpture in clay for indoor or outdoor installation. Art as Fetish Objects. Classes My murals are designed on a commission...
joroko.com - Baltimore
http://www.joroko.com/
A new breed of sculptures by artist JOROKO. East-coast sculptor has a truly unique vision. Figurative portraits that assimilate the human form with decadent post-industrial buildings.
Ululani Hawaiian Art Gallery - Holualoa
http://ululani.com/
Original hawaiian art featuring Herb Kane limited edition giclees, paintings, metal sculptures, pottery, ukeleles, prints, limited edition lithographs, books, cards, cups, t-shirts, posters, kona...
Cuba! Cuba! - Key-West
http://www.cubacubastore.com/
Cuban art and crafts, paintings, sculpture, cigars, music CDs, books, posters, maps, flags, Tshirts, and other souvenirs from retail gift shop and art gallery in Key West, Florida.
Smart Publishing - Fort-Lauderdale
http://smart-publishing.com/
Smart Publishing brings together a wide collection of internationally acclaimed artists. Mediums including original paintings, sculpture, serigraphs and etchings.
Kevin Clark Originals - Hotchkiss
http://www.kevinclarkoriginals.com/
Kevin Clark Originals is a group of employed artists & craftsmen who design & build antler chandeliers, hand forged irn & bronze sculptures & carved etched glass, mica & alabaster art & lighting...
Redstone Art Center - Redstone
http://www.redstoneart.com/
The Redstone Art Center is an art studio art gallery, located in Redstone, Colorado, and features original works of art by colorado artists. Paintings, ceramics, jewelry, sculpture, photography...
Alexander, Artist's Gallery - Los-Angeles
http://www.art-alexander.com/
Art Alexander is an online art gallery where you can view a selection of the artist's work including paintings, sculptures, computer art, holographic movies and four dimensional work.
Tsahai Studio - Sculpture by Manuelita Brown - Encinitas
http://www.tsahaistudio.com/
Upcoming Exhibitions: The Puck Building, SoHo January 29-February 1, 2004 295 Lafayette @ Houston Street New York, NY More details Site designed and hosted by Deep Mercury Web Services.
Living Spa - El-Cajon
Harmonie Sant' propose des services de massage th'rapeutique (incluant l'harmonisation de l'Aura) et de formation (Communication et Sensualit', Sculpture Physique)
Sherwood Gallery - Laguna-Beach
Mixed media sculpture and functional art furniture. Representing over 30 artists like, Craig French, Roark Gourley, Jon Seeman and Lyman Whitaker. Ceramics, Glass, Sculpture, Contemporary Art...
Bryant Street Art Gallery - Palo-Alto
http://www.bryantstreet.com/
Bryant Street Gallery, an Art Gallery featuring contemporary art, paintings, sculpture, collages from accross the United States...
Galerie Timothy Tew - Atlanta
http://www.timothytew.com/
Galerie Timothy Tew - Atlanta contemporary fine art gallery. Primarily figurative and representational artists. Art works exhibited included paintings, drawings and sculptures by many...
Gail Severn Gallery
http://www.gailseverngallery.com/
GAIL SEVERN GALLERY @ HOME | ARTISTS | EXHIBITIONS | SCULPTURE GARDEN | LIBRARY | CONTACT | ABOUT US Artists Exhibitions Sculpture Garden Library Contact About Us 400 First Avenue North ' P.O. Box
Anne Reed Gallery - Ketchum
http://www.annereedgallery.com/
ANNE REED GALLERY exhibits contemporary painting, sculpture and photography by established and mid-career artists. With a focus on strong, yet accessible work, ANNE REED GALLERY has developed a...
African Fine Art - Ketchum
http://www.artfromafrica.com/
African art, antiques and collectables. A unique collecton of tribal masks, statues, sculptures, bronzes, tapestry, carvings and music...
Caldback Gallery - Rockland
has been in the business of handling fine art since 1982. It is known and respected in the Maine and the New York art worlds for its exhibitions of paintings, sculpture, and...
Mast Cove - Kennebunkport
http://www.mastcove.com/
Kennebunkport Maine, home of Maines largest privately owned group gallery Mast Cove exhibits art media, paintings, sculpture, mast cove galleries, Kennebunkport Maines art gallery featuring the...
Arts College International - San-Diego
http://artacademyofsandiego.com/
The Art Academy of San Diego is an avocational art school. We teach painting, drawing, sculpture, and print-making in a large facility dedicated to art making.
McMillian Quarter Horses, Inc. - Gainesville
http://www.horsesculpture.net/
Horse Art: bronze sculpture & resin. Gifts, Horse Trophies, Household gifts, American Quarter Horse, Sculptor, Designer, horses by Marrita at horsesculpture.net.
Robertson, David - Eugene
http://www.truelightco.com/
Handcrafted, functional metal art for home, garden or business. Unique designs in metal sculpture, metal furniture, lamps, railings, gates, and arbors. Specializing in custom orders.
Gold Wire Sculpture - Vicksburg
http://masterwiresculptor.com/
Wholesale gold and silver gemstone jewelry custom made to fit you.
Edgar, L.D. - Cody
http://www.westernheritagestudio.com/
Western art, western paintings, western art prints, historical art, and historical paintings about the old west from L.D. Edgar of Cody, Wyoming, including western sculpture, bronzes, note...
Arctic Raven Gallery - Friday-Harbor
http://www.arcticravengallery.com/
Native art form the source is our focus - Inuit Sculpture, Northwest Coast, Masks, Haida, and Bronzes.
Artplace, Inc. - Denison
http://www.artplace.com/
Fine Art Custom Framing Original Art, Gicl'es, Prints, Sculpture, Pottery, Quality Crafted Gifts Email info@artplace.com Phone 903-327-8180 Gallery Hours CST Mon-Fri 10 AM - 5:30 PM Sat - 10 AM...
Fisar, Marek - San-Francisco
http://www.fisar.net/
Art Glass Sculptures from studio of Czech artist Marek Fisar. Cast glass, mold melted glass, slumped glass, painted glass, blown glass, glass pyramids, blown glass, hand cut and polished glass...
Larry Golsh Design Studios - Scottsdale
http://www.larrygolsh.com/
Custom designed jewelry, sculpture and architectural design by Native American artist, designs have won international acclaim...
Barker Animation Art Galleries - Cheshire
http://www.barkeranimation.com/
Barker Animation Art Gallery, Fine Art and Sculptures of Cheshire, CT welcome you to our web site and the 22 reasons that make us special...
Wildwood Gallery & Framing
http://www.wildwoodgallery.com/
Featuring local, national and international artists; original and limited edition art; sculpture and a variety of unique gifts
*Note : All these listed websites were crawled by Web Data Extractor (version 5.0) or were directly submited by people through add url form.