Sheer Waterfalls Fiberoptic Lighting Fountains Decking Pool Bar Rock Waterfall Seating Bench Decorative Accents
Caribbean Pools, Inc. - Marietta
http://www.swimming-pools.com/
Your Total Satisfaction pool builder of in-ground vinyl, gunite, and fiberglass aquatic structures. Serving the Atlanta metropolitan area with professional designs, products, and services.
McAlarney Pool Spas and Billiards - Marietta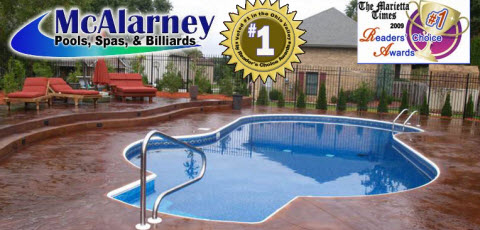 http://www.mcalarney.com/
swimming pools, swimming pool filters: McAlarney Pools, Spas & Billiards (Marietta, Ohio) has pool supplies, swimming pool chemicals, swimming pools, swimming pool filters, pool, filter, pool...
Pool and Spa Experts - Englewood
http://poolandspaexperts.com/
Reardon Enterprises, Denver, Englewood, Colorado, swimming pools, swimming pool, swimming pool contractors, spas, spa, hot tubs, pool, pools, filter, cover, Aquamatic, PacFab, waterfalls, custom pools...
Sentry Pool, Inc. - Moline


http://www.sentrypool.com/
Senty Pool offers swimming pools, hot tubs, above ground pools, pool accessories and other swimming pool supplies. Take a look at the endless possibiliteis of custom swimming pools!
Brands :
Anchor
Arctic Armor
Aqua Products
Baracuda
Blue Haven
Dirt Devil
Gladon
Hayward
Interfab
International Leisure
Jacuzzi
Jandy
Magic Mesh
Nature2
Pac Fab
Outback Chair
Pentair
Polaris
Pool Frog
Ramuc
Raypak
Rocky's Eazy Rollers
SmartFeatures
Smartpool
Spazazz
SportsStuff
S.R. Smith
Sta-rite
Toba Fountains
Uniflame
Wall Whale
Water Warden
Waterway
Whitehall
Zodiac
Alfresco Pools - Houston
http://www.alfresco-pools.com/
Houston Pool Builder, Custom Swimming Pools, Residential Swimming Pool Contractor, Gunite Pools and Spas, Inground Swimming Pools...
True Blue Pools - Tempe


http://www.truebluepools.com/
swimming pools: construction, remodeling & repair, pool pumps, filters & more. Custom swimming pool & spa construction in the Arizona area by True Blue Pools. Swimming pool design services in Arizona.
Swimming Pools of Tupelo & More Superstore in Tupelo, MS sells swimming pools, spas, billiard tables, tanning beds, patio furniture, grills and cookers, auto pool cleaners, and fireplaces.
Tri-county Fiberglass Swimming Pools - Napa
Swimming pool contractor: swim in a fiberglass in-ground pool or spa. Licensed swimming pool contractor serving Napa County, St. Helena, Calistoga, Vallejo & Fairfield in Solano County.
Enumclaw Pool - Enumclaw
parks and recreation, king county department of, swimming pools, water exercise, schedule for Kent Pool, Kent, Washington, USA...
Laguna Pools - Katy
http://www.lagunapools.com/
Laguna Pools, Houston Texas, Builder of up Scale Swimming Pools. Specializing in Swimming Pools, Spas, Waterfalls, Bolder Creations, Sheer Descent Waterfalls, and Other Water Features.
Anchor Pool Service - Plano
swimming pool maintenance - We specialize in professional weekly swimming pool service. With over 12 years' experience cleaning pools in the Dallas and Plano area, our unique pool service will...
Austin Disappearing Edge Swimming Pools
A Unique Swimming Pool Builder for Houston, Austin, San Antonio, Dallas, Texas, Pools...
Indian Summer Pool And Spa - Springfield
Your complete source for swimming pools, spas and supplies. Indian Summer Pool and Spa has been building custom swimming pools since 1987 for commercial and residential customers.
Berkshire Pools & Patio - Pittsfield
Home of Berkshire Pools & Patio. A full service swimming pool company that specializes in the installation and service of Quality vinyl liner swimming pools. We are located in Pittsfield...
Discount Swimming Pool Supplies - San-Francisco
In The Swim offers a complete selection of discount spa and swimming pool supplies, chemicals, and accessories. We provide the finest quality swimming pool supplies, that meet exceptional safety and...
Edgewood
Tri-County Unlimited, Inc. Quality Construction of Concrete and Vinyl Liner Swimming Pools! 2809 Pulaski Highway Edgewood, Maryland 21040 410-679-1551 MHIC #28049 Click on the pool to add...
Janine's Pools & Spas - Phoenix
Swimming, Pools, Owner, Builder, Arizona, Phoenix, waterfalls, grotto, cave, diving, troon, scottsdale, mesa, gilbert, tempe, goodyear, good year, litchfield, glendale, peoria, sun city...
Dream pools an Orlando swimming pool contractor provides, pool design, pool construction, pool renovation, and pool building to the Orlando, and Central Florida area.
Spa Supplies - Houston
http://www.pool-spa-supplies.com/
Offering a complete line of swimming pool and spa supplies including pumps, filters, heaters, lights, slides, diving boards, skimmers, drains, chemicals, pool liners, cleaning equipment and much more.
King County Department of Natural Resources and Parks
We treat wastewater, dispose solid waste, promote recycling and water reuse, protect water and land resources, help reduce damage from floods, and manage parks, playfields and swimming pools.
Aquarian Pools of Columbia


http://www.aquarianpools.com/
Aquarian Pools of Columbia specializes in traditional and custom inground swimming pool sales and service. Serving South Carolina since 1972...
HydroWorx International, Inc. - Tiona
http://www.hydroworx.com/
HydroWorx manufactures underwater treadmills, therapy pools, pools with movable floors, swim spas, hot pools, cold pools, pools for aquatic rehabilitation, multi depth pools, swimming pools...
*Note : All these listed websites were crawled by Web Data Extractor (version 5.0) or were directly submited by people through add url form.