Vibration Analyzers/Balancers
Industrial Fan Balancing Machinery
Compare The Top Sites Here.
Industrial Balancing Services


http://www.schenck-usa.com
Nationwide balancing and vibration analysis services for smooth, trouble free operation and maximum rotor performance.
Contract Industrial Dynamic Balancing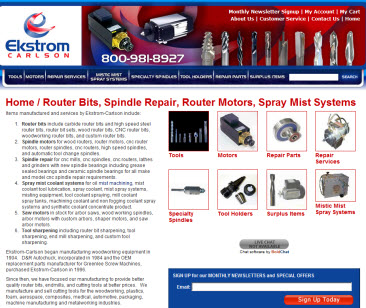 http://www.ekstromcarlson.com
Contract dynamic balancing at competitive prices for rotating equipment weighing upto 250 pounds. Specializing in tight tolerances and high speed rotors.
HI-TEK Balancing and Machine


http://www.hitekbalancing.com
Blower Fan Services Click Here HI-TEK Balancing and Machine proudly serves the industrial balancing and vibration analyses needs of engineers, small business, and major corporations throughout...
Jess Miller Machine Shop - West-Chester
http://www.jessmillermachineshop.com/
Jess Miller Machine Shop is a complete automotive machine shop offering engine machine shop service, balancing and blue printing, all work done on premises, fast dependable service and ASE...
Balmac Inc. - Hilliard
http://www.balmacinc.com/
Balmac Inc. is a manufacturer of vibration meters, vibration analyzers, vibration switches, vibration monitors and balancing machines for industrial and commercial applications around the world.
Pierce Machine Company - Dalton
http://www.piercemachine.com/
A full-service machine shop, including machining, fabrication, assembly and test. We offer lathe turning, CNC machining, Blanchard grinding, dynamic balancing, tooling, welding, drilling and...
Dynamis Inc Balancing Machinery - Venice
http://www.dynamisinc.com/
EPOXY DYNAMIC BALANCING COMPOUNDS FOR ELECTRICAL MOTORS, POTTING COMPOUNDS, EPOXIES FOR INDUSTRIAL CONCRETE REPAIR, PATCHING, RESURFACING, PAINTS, ADHESIVES, DYNAPOX MARINE EPOXY BOAT REPAIR...
Jacobi Industries - Ava
http://www.jacobiindustries.com/
Sharples Super-Centrifuges, Alfa Laval Sharples Super-Centrifuges, centrifuge rebuilding & bowl repair. Vertical centrifuges. The latest technology in CNC milling, turning, honing & dynamic balancing...
Precision Machine Company, Inc. - Richmond
http://www.precisionmachineco.com/
Quaity precision machining. Rihmond, Virginia, Small to mid-size lot CNC turning and milling. Complete machine shop, balancing. welding, drilling, grinding, etc. See our web page for capability list.
AirTAB Website
offers a full range of HVAC systems Testing, Adjusting, and Balancing services to assure your building or industrial complex operates at peak efficiency.
*Note : All these listed websites were crawled by Web Data Extractor (version 5.0) or were directly submited by people through add url form.