Amrest parts - Seat Belts - Lap Belts - Retractable 2-Point Lap Belts Starburst Style Mini Retractable Bucket Lift Latch Chrome Lap Belts Lift Latch Retractable Lap Belts 3-Point Shoulder Harness Bench Clip On Retractors Stylized Retractors
Julianos Steering Wheels : 1935 Ford Banjo 1936 1937 1938 1939 1940 9 Bolt Woodgrain Wheels - Steering Wheel Adapters Columns Ididit Steering
Easy-Angle Floor Mount - Round Slimline Column Drop Dress-up Kit GM Billet Shift Handle Power Windows Posi-Glide II Power Windows Steel Door Checks Glass Run Channel Billet Power Window Switch Plates
Switches Plates Vent Window Eliminating Kit
Power : Bear Claw Door Latches Door Lock Kit Cowl Vent Power Trunk Latch Opener
Shaved Door Handle Kits
Interior : Dual Overhead Dome Lights Oval Rear View Mirrors Parts Throttle Pedal Assembly - Brake Pads
Machined Floor Trim Plates - Door and Window Handles - Map Light - Coat Hooks
Windshield Super Adjustable Wipers

Door Poppers

Vanity Mirror / Registration Holder - 9-Bolt Billet Horn Buttons V8 Aluminium Arm Rest
Power Delivery Components : Cable Ends - Battery Cables Terminals Standards Dual Mount Smooth Top Manual Battery Cutoff Circuit Breaker Fuses / Fuse Holders Auxiliary Battery Power Posts - Wire Management Clips - Wiring Port Trim Kit

Rust Prevention Coatings - Pro-Clamp - Stainless Steel Exhaust Coupling - Carbon Fiber Finish Covers
Lokar Performance Products - Automatic Transmission Shifters Indicators Boot Set - Billet Oval Dash Insert 5&6 Gauge - Emergency Brake Kits + Connector Cables - Hood Trunk - Door Latches - Throttle Cables & Kickdown Cables Bracket & Spring Kits Assemblies / Pads - Transmission Dipsticks Engine - License Plate Frames
Magnetic Rear Reflectors - Soft Top Insert Kits - INSUL-TEK Foil Insulation - Sound Deadening Material
Color KeyTM Fender Welt - Carpet Underlay - Custom Bug Screens - Windshield Slides
Halogen Taillight Reproduction Retrofit 3rd Brake Lights Mini Round Spot Light Adjustable Angle Courtsey Light - Aooga Horns - Suicide Door Safety Latch Kit
Hot Rod Truck - Baltimore
HOT ROD TRUCK SCHEDULE CLUB INFO BIO NEWS DARKROOM COOL LINKS Give us a shout. HOTRODTRUCK@ MINDSPRING.COM AUDIO CENTRAL Hot Rod Truck is still on hiatus.

Rod Garage - Des Moines

Stainless steel gas tanks by Rick's Hot Rod Shop(RHR)are a superior alternative to OE Tanks. If your looking for a hand crafted style and quality, look no further.
Hot Rod Hearse - Birmingham
Lime Works Speed Shop - Whittier

Kenny's Rod Shop - Turlock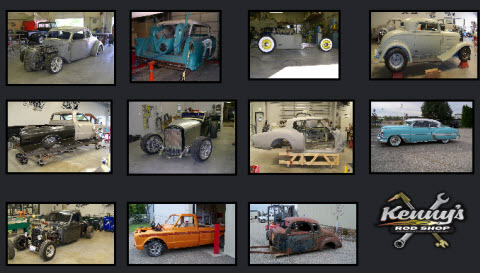 Brookville Roadster, Inc. - Brookville
Produces 1929, 1930, 1931, 1932 Ford Street Rod bodies, chassis and kits. We are located in Ohio and take great pride in excellent craftsmanship for your hot rod or...
Painted Horses, Inc. - Harvard
Custom Paint and Design incuding fabrication. Est. 1991. Personalized paint for your motorcycle, hot rod, antique, car, truck, show classic. Flames! Graphics! Murals! Airbrushed Art!
Bruce's Street Rods - Bandon


We perform custom hot rod building, painting and development from sportscars to reconstruction of historic vehicles.
Knoxville Dragway - Knoxville
D D Hose, Hot Rod Barn, Karnes Garage, KLR, Tony Felty Painting, SBE Trucking What's Happening at Knoxville Dragway! Thursday Night Import Test Tune May 5, 2005. Gates open at 5:30pm! Friday Night...
*Note : All these listed websites were crawled by Web Data Extractor (version 5.0) or were directly submited by people through add url form.